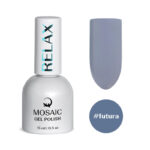 Futura
$18.99
RELAX, take it easy!
We are happy to announce the new gel polish series called RELAX. The name of the series comes from a popular trend of calm, non bright, whitened creamy shades. All 16 colors are "bleached" and their pale look turns to beautiful velvet when overlaid with the matte top.
There are several shades of white to meet all demands with this popular color.
Description
Additional information
Reviews (0)
Q & A
Description
Futura
Highly pigmented creamy texture allows one coat application for most colors.  Comfortable specially developed brush that has more than 1000 thin bristles for perfect and beautiful application in cuticle area. 15ml  Professional Size Bottle.
Directions for use:
Push the cuticle and prepare nail as usual
Apply Freshner to the whole nail
Apply Ultrabond Primer or BondX and seal the free edge
Apply a coat of base gel (UV LAC Base coat, SculptX, Architect X, Rubber base, Level Up). Seal the free edge. Cure in LED/UV lamp.
Apply a thin coat of gel polish. Seal the free edge and cure in the lamp. UV lamp 2 min, LED-UV lamp 30 sec.
Apply top gel. Seal the free edge.
To remove- file off or soak off with UV LAC remover liquid.
Q & A
There are no questions yet
Related products
Out of stock

Art Gel Polish Collection, Blue Gel Polish Collection, Containers & Displays, Forms, Tips & Accessories, Glitter Gel Polish Collection, Green Gel Polish Collection, Neon Gel Polish Collection, Nude Gel Polish Collection, Pastel Gel Polish Collection, Red Gel Polish Collection, Relax Gel Polish Collection

Mosaic Gel Polish Color Display

$

99.99