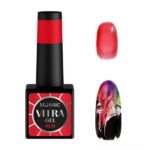 Mosaic Vitra Gel Red
Mosaic Vitra Gel Red
$18.99
$18.99
Mosaic Vitra colour glass gels have a special pigment that keeps them semi transparent
Description
Additional information
Reviews (0)
Q & A
Description
Mosaic Vitra Gel Red
Mosaic Vitra colour glass gels have a special pigment that keeps them semi transparent. They have tacky layer after curing, which is very comfortable for design. Must be overlaid with top coat.
Color intensity depends on the amount of coats. So if you apply any color twice – it will become darker.
Beautiful over foil, Royal Glitter Gel and new Bifröst glitter gel paint.
Available in 11 amazing colors!
10ml
Q & A
There are no questions yet