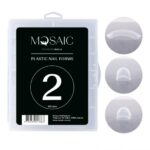 Dual Form #2
Description
Additional information
Reviews (0)
Q & A
Description
Dual Form #2
Multi-use plastic upper forms for nail extension. Can be used with acrylic, acrylic-gel and builder gels. With proper use, nail filing time can be reduced to minimum.
Directions:
Prepare the nail as usually. Apply Freshner to whole nail.
Apply Ultrabond Primer or BondX and seal the free edge.
Apply a base coat with Rubber base gel and cure in the lamp. Remove tacky layer.
Using a builder gel brush apply some builder gel,m acrylic-gel or acrylic on the inside part of the form and spread it evenly.
Apply a plastic form on the nail and press. Make sure to hold it straight, without incline.
Holding it with your hands, do a 10 seconds flash cure using Mosaic spotlight LED lamp. (Not necessary if using acrylic)
Remove the gel excess from the cuticle area and skin if needed.
Now cure the plastic form in the LED lamp for 60 seconds
Using your fingers and a wooden stick, carefully remove the plastic form starting from the free edge.
File the cuticle area and a free edge.
Manufactured by: Mosaic Nail Systems
Q & A
There are no questions yet