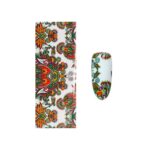 Art Foil 09-05
There's a possibility of partial damage of all 09 series foils due to improper folding at the factory. Therefore this product is discounted to sell. No returns will be accepted for 09 series.
Description
Reviews (0)
Q & A
Description
Art Foil 09-05
Art foils are a very thin transfer foil with a printed design.
Application: apply with design side up on top of cooled Mosaic Foil gel layer (10-15 second after curing).
If you are using a large amount of foil on the nail surface, it is recommended to apply Bond X onto the foil before Top Gel.
Foil is 4 cm wide x 40 cm long.
Q & A
There are no questions yet