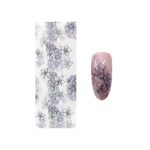 Art Foil 05-08
Availability:

Only 1 left in stock
Category: Art Foils
Description
Reviews (0)
Q & A
Description
Art Foil 05-08
Art foils are a very thin transfer foil with a printed design.
Application: apply with design side up on top of cooled Mosaic Foil gel layer (10-15 second after curing).
If you are using a large amount of foil on the nail surface, it is recommended to apply Bond X onto the foil before Top Gel.
Foil is 4 cm wide x 40 cm long.
Q & A
There are no questions yet